Q2 Designs
An affordable print and web design company
Websites
These days we construct websites using the WordPress platform. But, we can also handle traditional HTML sites if that's your jam.
Magazines / Booklets
We design and prepare magazines for print, as well as use Issuu to put them online if you'd like.
Flyers
Need a flyer to promote a business or event? We do those, too!
Brochures
Trifolds, bifolds – even quadfolds! We've done them all and can help you plan a brochure for your business.
Logos
Sometimes, we produce logos. We ask you questions about your preferences and business to help build you the one you like best!
Ads and Banners
Besides designing ads for print, we can also design banner ads for web advertising. Whatever kind of ad you need (include tradeshow pop-ups), we can do it for you!
Postcards / Business Cards
Need a promo postcard, rack card, or just a good business card? Yep, we do all that, too!
All the Other Stuff!
Many of our clients are small businesses, and we help them with marketing strategy and copywriting. We've come up with taglines for several companies.
We offer hosting for our web clients, and will help purchase a domain name if needed. For our print clients, we're also able to offer high quality, affordable print services.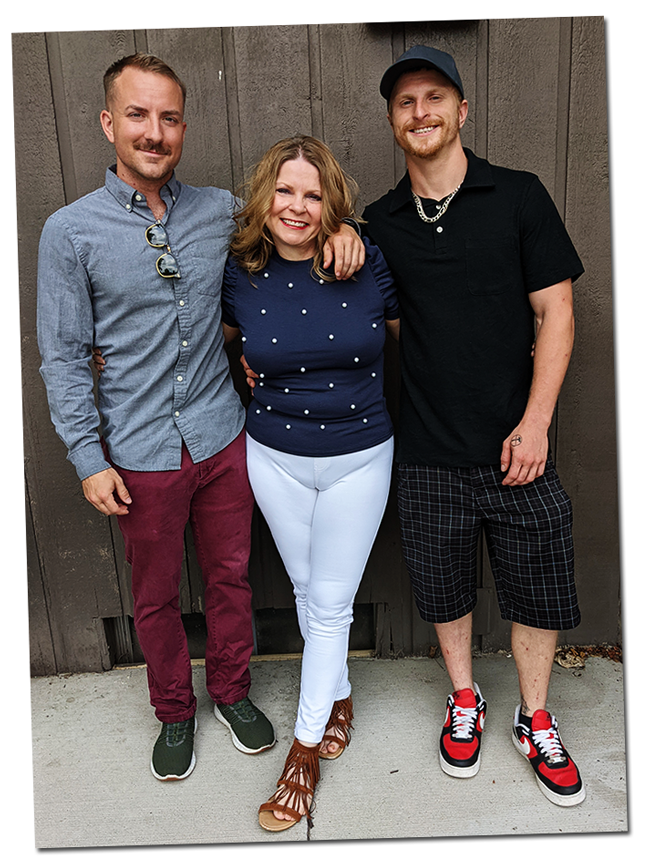 ABOUT CHRISTIE
Hi, I'm Christie! I've been designing websites and print pieces for longer than I care to admit. 😉 It all started with a job (don't a lot of things?) Part of my job was designing flyers – something I had not done before. A quick tutorial from a co-worker and I was off to the races.
Then I got some help from good old Uncle Sam. I was in the Air Force Reserves at the time, and was sent to a bunch of classes in all things Adobe. I took over editorial and design duties for our Wing newsletter, and my skills grew.  (p.s. I was also in the US Army prior to the AF Reserves. Confusing, huh?) (p.s. part two. This is me with my boys. The one on the left is currently serving in the US Army in Germany.)
I got into web design, teaching myself how to design sites, then later earning a webmaster certification. Things are constantly changing in my field, but one thing that hasn't changed is the need for good marketing. Every print piece, every website, is designed by me to help a business generate interest. I enjoy helping small businesses flesh out their marketing strategies.
I have an extensive background both in for-profit entities and non-profit organizations, earning my Certified Association Executive designation in 2020.
I'd love to talk to you! Drop me a line down below, and let's chat about what your design needs are.
Let's Start a Conversation